Week in Review
Friends,
This week I joined Senator Van Taylor to announce the filing of Senate Bill 14 addressing ethics reform. We passed an ethics reform bill out of the Senate last year that did not become law and now we're back with a new bill because this is a critical priority. Government – at all levels – should inspire the public's trust in a transparent and ethically principled manner. I commend Sen. Taylor for his commitment to strengthening Texas ethics laws. We have bipartisan support with 21 out of 31 senators already signed on to support this bill. This bill has wide support. Find out what the pillars of the ethics reform are and follow the progress of the bill through committees and hearings here on my website.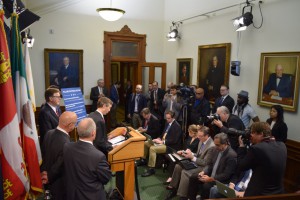 SB14 Press Conference
On Tuesday, I spoke to a huge crowd of Texans who participated in the Texas School Choice Rally. This is a priority for me because I believe that every parent deserves the choice to send their child to the school that is best for them. Right now there are too many children trapped in failing schools because only parents rich enough to send their children to other schools have that choice. It's time to change that.
Lt. Gov. Patrick at the Texas School Choice Rally
This legislative session, Texas is going farther to enhance our education system and also meet our workforce needs. Senator Larry Taylor filed Senate Bill 22 to ensure that students receive focused education and skills that will prepare them for high-demand jobs through a partnership between school districts, higher education institutions and business employers. You can follow the progress of the bill through committees and hearings here on my website.
Directly From the Source
Visit my website at www.ltgov.state.tx.us for the latest updates from the Lieutenant Governor's office.
Follow me on Twitter @LtGovTX and Instagram @LtGovTX and LIKE us on Facebook at Office of the Lieutenant Governor of Texas.
God Bless Texas,
"Whomever wants to be a leader among you must be your servant."
Matthew 20:26 (NLT)