Friends,
I've begun another tour across Texas to discuss the successes of this past legislative session and the work we have ahead of us. I even received a vaccination along the way. Continue reading to find out how this interim is shaping up!
Flu Season
The Texas Department of State Health Services announced the availability of the flu vaccine and subsequently declared Thursday, Oct. 1, 2015, Texas Influenza Awareness Day in Texas. To help spread the word, I headed to a local Walgreens in Houston and received my flu vaccination. I'd like to thank Emmanuel Achife, a doctor of pharmacy, for performing my vaccination. Flu season is now here and there is no reason to wait for your vaccination; it is the best way to prevent yourself and your families from getting the flu.
Lt. Gov. Patrick receiving his flu vaccination from Emmanuel Achife, Pharm.D., at Walgreens.
Statewide Propositions
Nov. 3 is approaching quickly! I've taken the initiative of going around the state to ensure Texans are knowledgeable and prepared for what they'll see on Election Day. My first stop last week was Tyler, where I met with local leaders and media outlets. I held a news conference at the airport in Tyler and was able to discuss the importance of voters turning out this November.
This week, I was in Corpus Christi, Odessa and San Antonio, to continue this discussion with business leaders and news channels in those areas. It's ultimately up to the voters to decide what's next for our state. It's imperative all Texans are aware of the potential changes they can make to the Texas Constitution. Voting on these issues could impact Texans' everyday life!
To see the full list of propositions and further explanations, click here.
Read more from this article by Adam Russell with the Tyler Morning Telegraph
Or this article by Matt Woolbright with the Corpus Christi Caller Times.
Lt. Gov. Patrick holding a press conference at the San Antonio Omni at the Colonnade.
USAA Meeting in San Antonio
This Wednesday, I attended and spoke at a luncheon hosted by the financial services company, United Services Automobile Association (USAA). I was honored to sit down with the top executives and then speak with over 300 USAA employees during lunch. USAA has contributed $12.7 million, in total, to nonprofit organizations that provide services in the areas of education, health and human services, arts and culture, and civic development. This valuable company is also a major resource for veterans, hiring more than 9,000 veterans and military spouses since 2006. Texas is one of the top ten states veterans choose to make their new home and it's partially due to companies such as this one. It is a priority of mine, as well as many Texans, to give back to the servicemen and women who have given so much for our state and nation.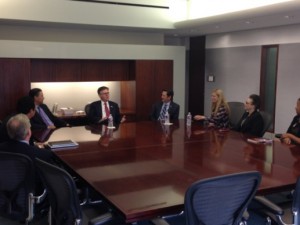 Lt. Gov. Patrick meeting with top executives from USAA in San Antonio.
Realtors Association Conference
I was glad to be back in The Capitol City yesterday, where I spoke with realtors from across Texas who meet annually in Austin for their Board Officers Leadership Conference and Governmental Affairs Orientation. During the 84th Legislative session, many bills were passed and signed into law that lower property taxes and require a more transparent and improved appraisal process. I was able to discuss these victories at the Realtors Issues Session and reiterate that this was one of the most successful sessions in the history of the Texas Senate. As long as I am your Lieutenant Governor, Texas will continue moving forward and progressing to bigger and better things. It's a NEW DAY in Texas!
Lt. Gov. Patrick speaking at the Texas Realtors Association Conference in Austin, Texas.
Directly From the Source
Visit my website at www.ltgov.state.tx.us for the latest updates from the Lieutenant Governor's office.
Follow me on Twitter @LtGovTX and Instagram @LtGovTX and LIKE us on Facebook at Office of the Lieutenant Governor of Texas.
God Bless Texas,
"Whomever wants to be a leader among you must be your servant."
Matthew 20:26 (NLT)