Property Tax Relief Finds a Home
This week the Senate continued their focus on delivering much needed property tax relief for homeowners and businesses.
Senate Bill 1760 (SB 1760), by Senator Brandon Creighton, delivers true tax relief for Texas homeowners by placing downward pressure on the continued overbearing growth of property taxes through transparency.
SB 1760 by Creighton, amended by Senator Paul Bettencourt, will now require over 4,000 local taxing entities across the state to have a 60% super majority vote before they can raise property taxes for homeowners and businesses.
Some of the bill's highlights include:
Removing the requirement that taxpayers due a refund have to apply for it.
Requiring local taxing entities (applies to school districts and all other taxing jurisdictions) to justify the necessity of a tax increase on notices and election ballots.
Allowing a court hearing an appraisal dispute to give preference to the testimony of an independent licensed appraiser.
Requiring the Texas Comptroller of Public Accounts to compile and annually publish a ranked list of tax rates by entity; deterring tax rate increases.
SB 1760 holds local government more accountable for increases in property taxes. It's yet another part of the larger plan to reduce property taxes for homeowners and businesses.
(Read my full press release here.)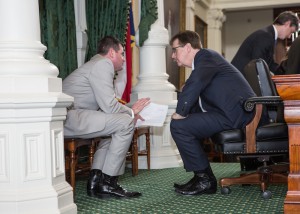 Lt. Gov. Patrick and Sen. Creighton discussing SB 1760.
Historic Ethics Package In The Senate
A very important ethics bill was unanimously passed out of the Senate this week that makes state government more transparent and accountable.
Senate Bill 19 (SB 19) by Senator Van Taylor is a historically significant ethics reform package in the Texas Senate. It holds our elected officials, state officers and candidates accountable and requires them to disclose written contracts for goods or services with governmental entities, professional consulting or legal services.
The bill further restricts a member of the United States Congress, Texas Legislature or statewide office from registering as a lobbyist, eliminating potential conflicts of interest. It also prohibits a retired member of the legislature from lobbying for one legislative cycle following their retirement.
I am proud of Sen. Van Taylor for carrying this bill to completion on the Senate floor. Restoring the public's trust in their government is a serious matter and a top priority for me, the Texas Senate and Governor Abbott.
Texans have spoken and expect the highest ethical standards from their government. The Senate will remain focused on following the will of the people.
(Read my full press release here.)
Lt. Gov. Patrick and Sen. Taylor discuss SB 19.
Expanding Charter Schools in Texas
As a state senator, I championed and passed legislation to expand high quality charter schools in Texas. As Lt. Governor, I remain committed to giving parents and students the opportunity they deserve to excel.
This is about students' opportunity for a better future and together, we are going to make Texas the number one state for charter schools. There should not be a wait list for entry into a charter school or for the American dream.
Lt. Gov. Patrick speaking at the Charter School rally outside the Capitol.
Tell Your Friends To:
Visit my website at www.ltgov.state.tx.us for the latest updates from the Texas Senate.
Follow me on Twitter @LtGovTX and Instagram @LtGovTX and LIKE us on Facebook at Office of the Lieutenant Governor of Texas.
God Bless Texas,
"Whomever wants to be a leader among you must be your servant."
Matthew 20:26 (NLT)